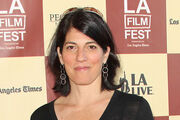 Linda Goldstein Knowlton is an executive producer on Code Black.
The Nutcracker and the Four Realms (2018)
Radical Brownies (2016)
Dude Ranch Dada (2016)
Dream, Girl (2016)
Code Black (2015-2016)
Makers: Women in Hollywood (2014)
Code Black (documentary) (2013)
Somewhere Between (2011)
Gotta Dance (2008)
Independent Lens (2006)
The World According to Sesame Street (2006)
The Chef & The Architect (2006)
Whale Rider (2002)
The Shipping News (2001)
Bad Assassin (2000)
Mumford (1999)
Crazy in Alabama (1999)
External Links
Edit
Ad blocker interference detected!
Wikia is a free-to-use site that makes money from advertising. We have a modified experience for viewers using ad blockers

Wikia is not accessible if you've made further modifications. Remove the custom ad blocker rule(s) and the page will load as expected.